Yes I've been waiting for over a year and a half to use that.
We're told to 'follow the science' — yet some of it is just plain wrong.
SCIENCE: "[Seventy-eight percent] of hospitalizations due to COVID are Obese and Overweight people. Is there an underlying problem that perhaps we have not given enough attention to?"
There's no graft money to be made in making people healthy and fit. If there were, the entire system wouldn't be organized around the reverse.
Reported COVID Cases Surge In Vermont Despite Unmatched Vaccination Rates
The Top Reason I Hate Masks Is They Force Me To Live By Lies
ARIZONA SCHOOL SHOWS SHOT MANDATE ABOUT POWER, NOT THE KIDS: If it was about the kids, the building operations director wouldn't have been demoted to being a (substitute) teacher in the classroom.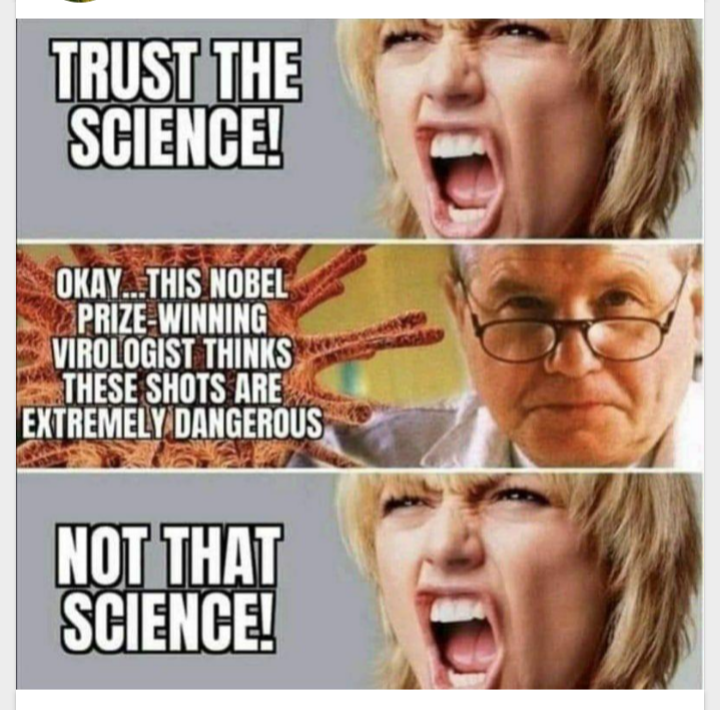 Another COVID 'Fact' Turns Out To Be A Wild Exaggeration
Here's Fauci Pre-Pandemic Laughing At The "Paranoid" Idea That Masking Is Effective Against Infectious Disease
INDIA'S BIGGEST STATE IS ALL BUT COVID-FREE: That's the news from the Hindustan Times. As it happens, public health authorities in a state there that has as many people as the entire U.S. do not block use of Invermectin to treat Covid patients. Probably just coincidental, right?
Positive COVID Rates In Sweden Remarkably Low Minus Lockdowns, Vaccine Mandates
Let's Check In With Australia & Its Endless COVID Lockdowns…Yep, Cases Are Up Big Time
Video Shows Hospital Staff Plotting to 'Scare' the Public on COVID-19.
Just trust us on this, peasant: WORLD HEALTH ORGANIZATION BUREAUCRATS: No, we won't tell you how many of us are vaccinated.
It's been 18 months and STILL nobody's found it?! Scott Gottlieb: 'Nobody Knows' Where That Six-Foot Social Distancing Rule Came From